EE2: Master Server won't work after 10.10.2012!
GameSpy Technology decided to discontinue all their services.
Ministry of Foreign Affairs - Last update: 24.02.2013 00:40 CET


Play Empire Earth II Multiplayer,
without GameSpy Server
thanks to GameRanger!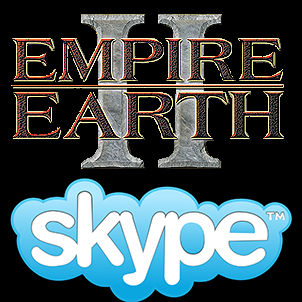 Join The Official Empire Earth II
Skype Group, to be always
in contact with your friends!
Follow EE2 News
on twitter, to always know
about the latest news!
Play Empire Earth II on your
computer with Windows 8
thanks to EE2 Windows 8 FIX

Download Unofficial Patch 1.4
to play online on widescreen
with new features.


Join EE2 Xfire community
to see all EE2 players
who use Xfire messenger.


Watch EE2 screenshots
posted by other players
and upload your own.


Subscribe and watch videos
on a Youtube channel
with everything about EE2


Visit "Help, Questions & Problems"
subforum, to get help with EE2
and any other problems.


Download EE2 files:
Multiplayer scenarios, maps,
mods, patches and fixes.